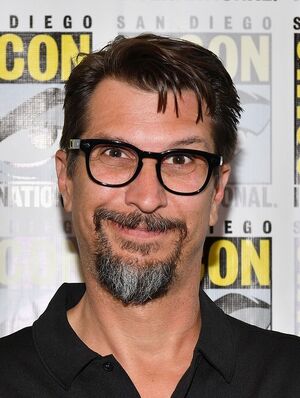 Matt "Lucky" Yates (b. 1967) is an actor, voice actor and puppeteer known for his voice roles as Dr. Krieger on Archer and as the Xtacles on Frisky Dingo. Yates was also a recurring actor on the Food Network series Good Eats. Early in his career, Yates worked as an additional Muppet performer on The Adventures of Elmo in Grouchland (credited under his real name of Matt Yates).
After studying theater in college, Yates became interested in puppetry through his job working at the box office for the Center for Puppetry Arts in 1996. Yates was invited to audition for the next season of shows and was hired, performing in shows such as The Velveteen Rabbit and Alice in Wonderland, followed by puppeteering on local PBS shows in Atlanta which led to his getting the job on Elmo in Grouchland. During that time, Yates rented a house with Annie Peterle and Lisa Sturz, where they threw a party for the cast and crew during the shoot.
In a 2013 interview, Yates recalled his work on Elmo in Grouchland:
"It was hilarious. It was the Elmo movie and I was in the group of background puppeteers. Anywhere that there's a giant crowd scene of a bunch of grouches or a bunch of whatevers walking around, I'm one of those dudes.

It was fun. I spent over a month in Wilmington, North Carolina filming it. The best part about it was that most of the old gang was still together, like Jerry Nelson and Carroll [sic] Spinney and just the old Muppeteers. So getting to hang out and party with those guys was a blast.

And the job was what it was. It was making a movie. It was a lot of sitting and waiting around, but then every once in a while you threw on a grouch and got to be in some scene. It was great. . . To go to the audition, they gave you an Oscar. "Here you go. Put on Oscar." Auditions were ridiculous. You had to say the ABCs and you had to count to 20, I think, with a Muppet.

But shit, it's like there's a fucking Oscar sitting there and then you put on Oscar the Grouch and you're like, "Jesus, I feel dirty somehow putting this puppet on. This is so weird. But whatever.""
External links
Community content is available under
CC-BY-SA
unless otherwise noted.