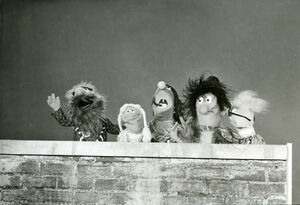 "Lucy in the Sky with Diamonds" is a song written and performed by the Beatles released in 1967. The song was famously covered by Elton John in 1974, and his rendition became the only cover of a Beatles song to reach the No. 1 spot on the Billboard Hot 100.
The first season of Sesame Street featured a cover of the song with unaltered music and lyrics (in contrast to later Beatles covers and parodies). The song is sung by a Reddish-Magenta Anything Muppet with yellow, braided pigtails and a red and white polka dot dress (who was also seen in "Consider Yourself"). The girl sings sweetly until the chorus which is loudly performed by a group of hippie Anything Muppets (the same from "Good Morning Starshine").
The segment ends with the girl telling the lead hippie that it's not Lucy in the sky with diamonds, it's Wanda the Witch.
Notes
Joan Ganz Cooney briefly cited this segment as an example when describing late-1960's television as being "fast and psychedelic", and Sesame Street being criticized as such. "We even had 'Lucy in the Sky with Diamonds', sung by somebody, the Muppets, and we had to take that off of the air because that turned out to stand for L.S.D., or at least was thought it did."[1] 
The girl's singing voice is performed by Loretta Long, while the puppetry and speaking voice is provided by Frank Oz, who also performed double-duty as one of the hippies with chorus vocals (alongside Jim Henson and Caroll Spinney).
In both choruses, the Purple Anything Muppet hippie's nose falls off.
Sources
↑ Joan Ganz Cooney interview for the Archive of American Television, conducted on April 22, 1998.
External Links
Community content is available under
CC-BY-SA
unless otherwise noted.