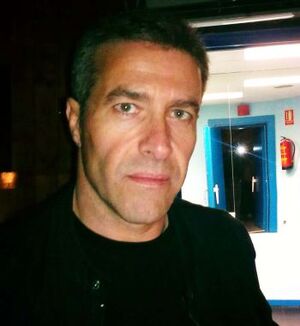 Luis Reina (b. 1963) is a Spanish actor who dubbed Gunge on Los Fraguel, the Castilian Spanish dub of Fraggle Rock.
Reina began acting as a child and adolescent in Spanish film and television. While still occasionally appearing on-camera (in episodes of the series Periodistas and Déjà Vu), he shifted to dubbing. Early assignments were still for juvenile actors, such as Roddy McDowall in Lassie Come Home, Jimmy Baio on Soap, Carlo Imperato on Fame, and Michael J. Fox in Class of 1984 and High School USA. He later dubbed Kevin Bacon several times, Mickey Rooney in the MGM movies, Jerry Seinfeld on Seinfeld and in guest spots, Bronson Pinchot on Perfect Strangers and elsewhere, Dana Ashbrook on Twin Peaks, and Damian Lewis on Band of Brothers.
Reina dubbed Apu, Troy McClure, and others on The Simpsons and video games include Ezio in the Assassins Creed franchise and Hawkeye in Avengers: Battle for Earth.
External links
Community content is available under
CC-BY-SA
unless otherwise noted.