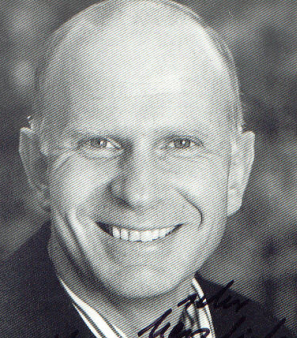 Lutz Mackensy (b. 1944) is a German actor who dubbed the voice of Bob in the first four seasons of Sesamstrasse and on records, prior to the introduction of German-produced street scenes. As the regular dubbing voice for Philip Michael Thomas on Miami Vice, he also voiced Tito in the "Miami Mice" spoofs on Sesamstrasse.
Other Muppet/Henson dub credits include Dr. Bunsen Honeydew in the German dub of It's a Very Merry Muppet Christmas Movie, Ivan the Guard in the dub of Muppets Most Wanted, various refrigerator creatures in Die Dinos, Frik in Merlin, and the Mock Turtle in Alice in Wonderland.
On camera, Mackensy has played Police Kommissar Zimmerman on the detective series Stubbe- Von Fall zu Fall since 1995 and appeared in multiple episodes of Tatort. He is the primary German voice of Stanley Tucci (including Captain America: The First Avenger) and Rowan Atkinson (as Mr. Bean, in Black Adder, and others). He also dubbed Christopher Lloyd in the Back to the Future sequels and TV series, Derek Jacobi in Gosford Park, Pierce Brosnan in the 1989 version of Around the World in 80 Days, and Gene Kelly in Take Me Out to the Ball Game.
External links