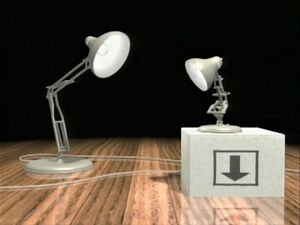 Luxo Jr. is a child-like miniature desk lamp. Rendered in computer animation, the playful lamp first appeared as the title character in the 1986 short Luxo Jr., written and directed by John Lasseter at Pixar Animation Studios and nominated for an Academy Award for Best Short Subject. Luxo Jr. subsequently became the official Pixar mascot, appearing in the opening logo on all of its films.
Beginning in 1991, the character appeared in a series of short Sesame Street segments, around thirty seconds each. Co-directed by Lasseter and Andrew Stanton, each short built upon the original film, focusing on little Luxo discovering a different learning concept, especially opposites, with the help of his dad, Luxo Sr. All four shorts are included in Pixar Short Films Collection on DVD and Blu-ray.
Sesame Street producer Arlene Sherman recalled how the shorts came about:
"With Pixar, I was helping to train their animators for Toy Story. They needed to gear up a lot of people, so the Pixar people and I had a mutual feeling about the show and sensibility, and so I would never know when I was getting another animation. I would approve the storyboards, then I would get these packages in the mail, with these wonderful Luxo Jr. pieces. I've had to work a lot with relationships, and use the good feeling that Sesame Street is promoting. Working as a producer is a real advantage there, because people want to work for the show.[1]"
Shorts
Credits
Producer/Director: John Lasseter
Co-Director ("Surprise/Light and Heavy"): Andrew Stanton
Voices: Craig Good
Technical Director: Oren Jacob
Sources
External links
Community content is available under
CC-BY-SA
unless otherwise noted.