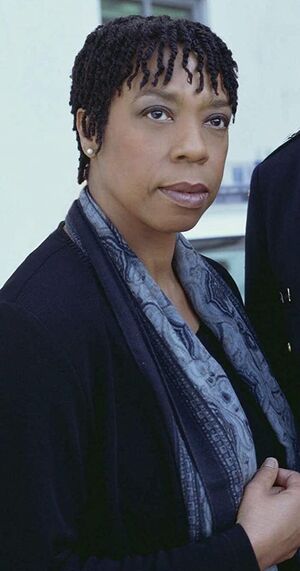 Lynne Thigpen (1948–2003) was an actress and singer who performed the voice of Luna on Bear in the Big Blue House. In Season 29 of Sesame Street, she guest starred as the WASA training officer in the multi-episode story arc in which Slimey goes to the Moon. She had previously been heard as a spoken voice-over in two animated segments, both first airing in episode 0926. In one she counts from 1 to 10 (and then backwards). In the other, she narrates a story featuring many words from the "US" family, featuring a cameo by Mr. Snuffleupagus.
A veteran of stage and screen, Thigpen is well remembered for her role as the Chief in the PBS game show Where in the World Is Carmen Sandiego? (1991-1996, with Greg Lee) and its short-lived spin-off Where in Time is Carmen Sandiego? (1996-1997). Her film debut was in the 1973 movie version of the musical Godspell. Often cast as dignified but strong-willed professionals and authority figures, she subsequently played key supporting roles in the movies Tootsie (1982, with Dustin Hoffman), Lean on Me (1989, with Morgan Freeman), Bob Roberts (1992), Bicentennial Man (1999, with Robin Williams, as a future President of the United States), Novocaine (2001, with Steve Martin), and Anger Management (2003). In series television, she played Nancy in the Tony Randall sitcom Love, Sidney (1982-1983), D. A. Thomas on L.A. Law, Judge Ida Boucher in three episodes of Law & Order, and most notably, the efficient police expert Ella Farmer on The District, from 2000 until her death in 2003.
Notes
External links
Sources
Community content is available under
CC-BY-SA
unless otherwise noted.