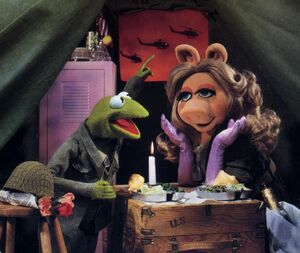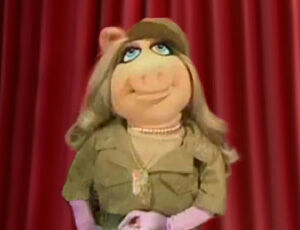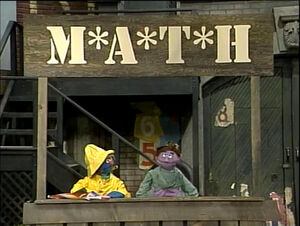 M*A*S*H began as a novel written by Richard Hooker, based on his own experiences during the Korean War. It was followed by Robert Altman's 1970 feature film, and then the long-running CBS television series in 1972. When the series ended in 1983, the finale became the most watched television episode in history.
On Sesame Street, Radar the stuffed bear was named by Big Bird's performer Caroll Spinney as a tribute to actor Gary Burghoff, who played Walter "Radar" O'Reilly.[1] The two met at a taping of Hollywood Squares, and the bear's name is a dual tribute, reflecting Burghoff's Radar character, who brought a teddy bear to Korea, and the fact that in his private life, Burghoff is known as a painter of birds and an activist for bird preservation.
References
In episode 1257 of Sesame Street (1979), Telly Monster (in his debut) names TV programs that start with the letter M. Listed among them is M*A*S*H.
On episode 502 of The Muppet Show, when *M*A*S*H regular Loretta Swit (Hot Lips Houlihan) guest stars, several references are made to the show. Characters talk about the series by name, with Janice questioning the title (while Rowlf quips his uncle was on *M*U*S*H). For the closing of the show, in retaliation for Swit taking Miss Piggy's roles, Piggy dresses as Hot Lips Houlihan.
Episode 2391 of Sesame Street features a spoof of the series as "M*A*T*H" (Mobile Addition-And-Subtraction Television Helpline). A soundalike of the M*A*S*H theme is used in the scenes as well.
During the gag reel on the DVD of Kermit's Swamp Years, a swamp scene is interrupted by a helicopter flying over head, to which Croaker calls out "Incoming wounded!"
In Sesame Street Episode 5001, Little Bird's teddy bear is named "Walter," which, like Big Bird's Radar, references Walter O'Reilly.
Connections
Sources
Community content is available under
CC-BY-SA
unless otherwise noted.