DEBUT
1979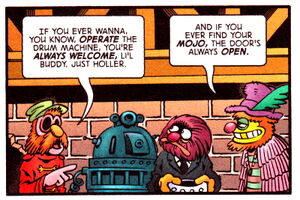 M.A.M.M.A. -- which stands for "Music and Mood Management Apparatus" -- is a music machine that Dudley Moore brings to The Muppet Theatre in episode 407 of The Muppet Show.
Dudley Moore originally introduces M.A.M.M.A. to Kermit as his back-up to be used for "Mama Don't Allow" in place of The Electric Mayhem. The members of the band naturally protest this, and say that if they're going to be replaced for that number, then the machine might as well play music for the entire show.
Upon his first sight of M.A.M.M.A., Kermit muses that it looks like a "fugitive from Star Wars."
As a result, the robot appears in several sketches, and even provides a dramatic climax for a conversation between Kermit and Miss Piggy in her dressing room.
Despite its talents and abilities, which also include rocket boosters enabling it to follow the Swinetrek in the far outer reaches of space, this "jive junk jukebox" eventually finds itself overworked and the machine overloads... but not before it causes the near destruction of the stage in an attempt to provide Gonzo with some unwelcomed assistance for his bomb defusing act. Hence, the closing number requires the return of the Electric Mayhem.
By the show's closing, Dudley has repaired the machine, which goes on to provide the score for the closing credits.
Later appearances
A toy version of M.A.M.M.A. was produced as a pack-in accessory for the Julius Strangepork Action Figure in 2003.
M.A.M.M.A. made a brief appearance in issue #4 of the 2009 comic The Muppet Show Comic Book: The Treasure of Peg-Leg Wilson. Animal is out of commission, subdued by Dr. Bunsen Honeydew's civilizing pills. With Animal unable to play the drums, The Electric Mayhem replaces him with a "drum machine" -- M.A.M.M.A.