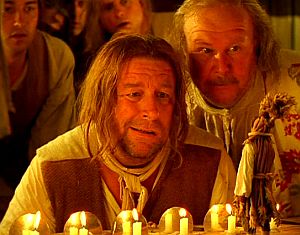 Mac MacDonald (b. 1949) is an American actor who has spent most of his career in England. He played a Brobdignagian farmer in Gulliver's Travels and provided the voice of Mrs. Rockchewer in The Neverending Story III.
MacDonald recurred on the sci-fi comedy Red Dwarf as Captain Frank Hollister (becoming a regular in the final season), and also guest starred on French and Saunders, Murder City, and Jeeves and Wooster. Film credits include supporting roles and bit parts, often as soldiers, policemen, or thugs, in Death Wish 3, Aliens, Superman IV: The Quest for Peace, Batman, The Fifth Element, and Flyboys.
Community content is available under
CC-BY-SA
unless otherwise noted.