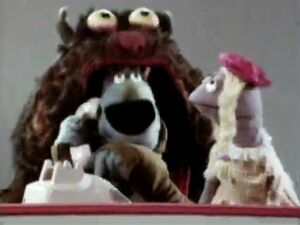 Mack is a humanoid Muppet character who appeared in some of Jim Henson's early commercials produced in the mid-1960s. The puppet was re-worked from Onky, a blue live-hand humanoid character who first appeared in a series of ads for On-Cor Frozen Foods.
Claussen's and McGarry's ads with Kermit
Mack appeared with Kermit in a series of ads for Claussen's Bakery in 1964 and 1965. The pair went on to star in a similar series of ads for McGarry's Sausage from 1965 to 1968.
Mack had a violent, adversarial relationship with Kermit, which was similar to the relationship between Wilkins and Wontkins in the mid-1950s Wilkins Coffee ads.
Telephone ads with Suzy
Mack was paired with Suzy, a young girl character, in ads for C & P Telephone Co. of VA (1965-1968) and Southern Bell Telephone (1966-1968). In these ads, the roles were reversed, as Mack would get the short end of the deal, except in one commercial, where he did what Suzy told him to do.
See also
Community content is available under
CC-BY-SA
unless otherwise noted.