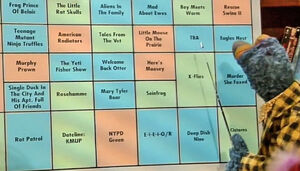 Mad About You is an American sitcom which aired on NBC from 1992 to 1999. Starring Paul Reiser (who also co-created) and Helen Hunt, the show chronicled a newly married New York City couple life from newlyweds to parents. The show was part of NBC's powerhouse Thursday night line-up, which also included Friends, Seinfeld and ER.
Its theme song, also co-written by Reiser, was included on TV Guide's 50 All-Time Favorite TV Themes CD.
Muppet Mentions
On the episode, "Pandora's Box," Jamie gets illegal cable for the TV, but gets caught and has the entire apartment building's cable cut off. The next day, a girl and her mother comes to the door and the girl asked, "Why did you make Big Bird go away?" and then says, "On the TV, he went away. Is he dead?"
In a couple of Season 6 episodes, a Tickle Me Elmo can be seen on the bookshelf in the living room.
References
Connections
External links
Community content is available under
CC-BY-SA
unless otherwise noted.