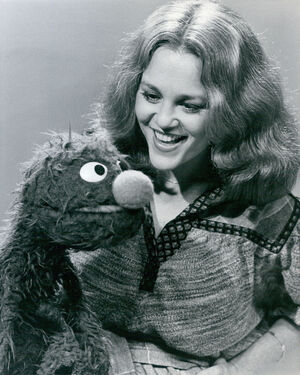 Madeline Kahn (1942–1999) was a comedic actress best known for her roles in Mel Brooks films, including Young Frankenstein, Blazing Saddles and High Anxiety. She won a Tony Award in 1993 for her role in The Sisters Rosensweig. She also voiced Gypsy in Pixar's A Bug's Life, and appeared as a regular cast member on Cosby.
In 1977, Kahn appeared as a guest star on The Muppet Show episode 209.
In 1978, she recorded inserts for Sesame Street (see below).
In 1979, Kahn made a cameo in the El Sleezo Cafe scene in The Muppet Movie.
In 1981, she returned to Sesame Street to portray Madeline, a bird watcher, in Episode 1576. She came back to the show one more time in 1993, as the Commissioner of Fun and Games in Episode 3136.

Sesame Street segments
Picture
Appearance
Description

Episode 1106
Rhino Tag

After a film involving rhinoceroses, Kahn comments, "I love rhinoceroses...but I wouldn't invite one to lunch."

Episode 1110
Working Dog Tag

Reacting to a previous segment about a working dog, Kahn wonders how much a workin' dog like that gets paid.

Episode 1112
"Sing After Me"

Kahn and Grover sing a duet of "Sing After Me."

Episode 1116
"Everybody Eats"

Kahn is inserted briefly into the established film piece, munching on an apple.

Episode 1139
Giraffe Tag

Following a film insert about giraffes, Kahn appears to say that they make great pets for those who have high ceilings.

Episode 1139
Counting 1-10

Kahn appears as twins, who count to 20 together.

Episode 1172
Me

Kahn sings "Me-me-me-me....," then points to the word.

Episode 1174
O Tag

In a series of five short scenes, Kahn reacts to the letter O in a multitude of emotions:

Version #1: surprised
Version #2: observational
Version #3: understanding
Version #4: shy
Version #5: inquisitive

Episode 2370
M-Madeline

Kahn sings, "Mmm...Madeline."

Sesame Street, Special
Kahn appears to sing a line of "Put Down the Duckie."
External links