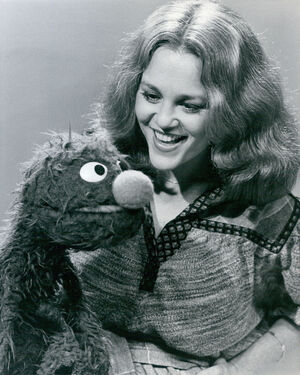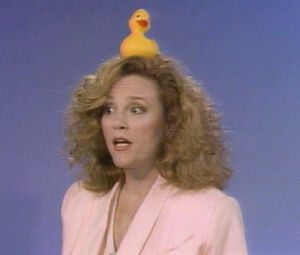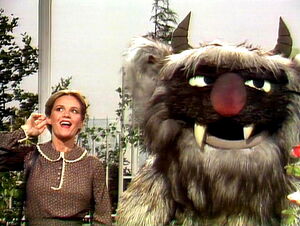 Madeline Kahn (1942–1999) was a comedic actress best known for her roles in Mel Brooks films, including Young Frankenstein, Blazing Saddles and High Anxiety. She won a Tony Award in 1993 for her role in The Sisters Rosensweig. She also voiced Gypsy in Pixar's A Bug's Life.
In 1977, Kahn appeared as a guest star on The Muppet Show episode 209.
In 1978, she recorded inserts for Sesame Street (see below).
In 1979, Kahn made a cameo in the El Sleezo Cafe scene in The Muppet Movie.
In 1981, she returned to Sesame Street to portray Madeline, a bird watcher, in Episode 1576. She came back to the show one more time in 1993, as the Commissioner of Fun and Games in Episode 3136.
Appearances in Sesame Street inserts
Madeline and Grover sing an echo song.
Madeline Kahn says "Me", as the word appears on-screen.
Madeline makes the M sound, and then says her name.
She appears in the celebrity-edited version, wearing a rubber duckie on her head.
Madeline says that although she likes rhinoceroses, she wouldn't invite one over for lunch.
Madeline plays a pair of identical twins, who take turns counting to 20.
External links
Community content is available under
CC-BY-SA
unless otherwise noted.