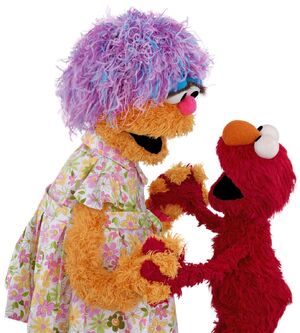 Mae is Elmo's mother and Louie's wife. She first appeared in the 2006 Talk, Listen, Connect resource videos, helping Elmo to cope with the absence of his father while he was deployed with the military. Her name was first made known in the 2009 special Families Stand Together.
When Louie has to leave for "lots and lots of days" to do grown-up work, Elmo and his mom keep busy passing the time until his return by keeping a daily routine. When it's finally time for her husband to come home, Elmo's mom bakes a cake and helps Elmo and his friends decorate for the homecoming.
A National Public Radio story on the video included a behind-the-scenes audio clip, recorded during a take for the scene in which Elmo's mom is reunited with her husband. The script called for an embrace between the couple, and a kiss. This soundbite illustrates the care taken between Fran Brill and Bill Barretta in determining just how long is too long for a kiss when dealing with scenes meant for innocent eyes. For this particular outtake, the performers took some liberties when the kiss had seemingly gone on too long.[1]
For the 2010 special When Families Grieve, Mae received a makeover in the shape of a nose job, and a wispier yet fuller hairdo.
In a 2004 episode, Elmo's mom can be heard in voice-over performed by Stephanie D'Abruzzo. She's heard again during the 2006 season, performed by Leslie Carrara-Rudolph. She was later heard in a season 45 episode telling Elmo that his lunch is ready. After years of absence, she appeared in Episode 4920 performed by Stephanie D'Abruzzo.
Elmo's World
A version of Elmo's mom was seen in the "Birthdays" episode of Elmo's World. In Dorothy's imagination, she appears the same way everyone does in Tickle Me Land: as a variation of Elmo. In this dream sequence, she is called "Gladys" in homage to performer Kevin Clash's mother.

Appearances
Video
Books
Illustrated versions have varied from red to orange fur, and various hairstyles. Elmo's mom had been seen in a number of books, and like Grover's Mommy, her appearance varied widely according to the artist. In such titles as Elmo Gets Homesick and When Is My Birthday?, Elmo's mom resembles an adult (female) version of Elmo. However, in the more recent illustrations and books, the character holds true to the current version of Elmo's mom, as seen in Talk, Listen, Connect.
See also
Sources