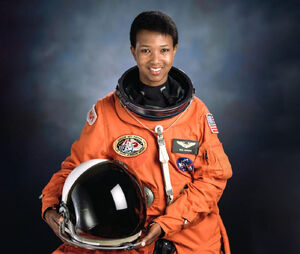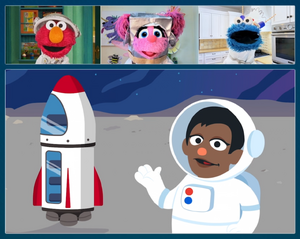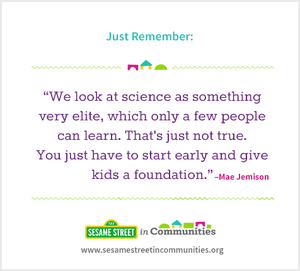 Mae Jemison (b. 1956) is an American astronaut who became the first black woman in space on NASA's STS-47 mission aboard Space Shuttle Endeavour in September of 1992. Jemison lent her voice to an animated version of herself in Episode 5212 of Sesame Street.[1]
Jemison served in the Peace Corps from 1985 to 1987 before NASA selected her for the astronaut program. She enrolled at Stanford University when she was 16 where she received a BS in chemical engineering, and earned her doctorate at Cornell Medical College (during which time she also took lessons in modern dance from the Alvin Ailey school).
Her career in NASA garnered Jemison fame which led to a speaking cameo in a sixth season episode of Star Trek: The Next Generation at the urging of LeVar Burton. She also hosted the 1994 Discovery Channel series World of Wonder, and appeared on episodes of African American Lives on PBS, and NPR's Wait Wait... Don't Tell Me! Jemison has made numerous event and talk show appearances including The Arsenio Hall Show and StarTalk, several Star Trek and black history documentaries, and served as a technical consultant on the Ron Howard-produced series Mars for the National Geographic Channel in 2018.
References
An animated segment in Sesame Street Episode 4910 tells the story of a little girl who reads a book at night that turns into a dream in which she travels to space with Mae Jemison. The pair ride on a Space Shuttle, practice gymnastics in zero gravity, eat packaged food through a straw, and observe the Earth from the Cupola observatory window on the International Space Station. When the little girl wakes up, she thinks that maybe she can be astronaut one day too, "just like Mae."
Sources