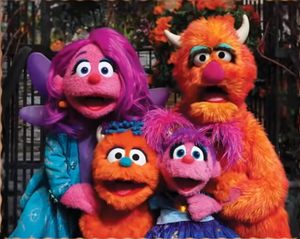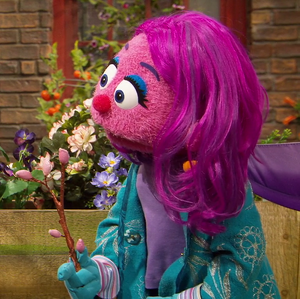 Maggie Cadabby is a Fairy Godmother and the mother of Abby Cadabby. Although she had been mentioned by Abby in various instances on Sesame Street and made a few illustrated appearances, she was mainly unseen and unnamed until 2018.
In Abby's earliest appearances, she would often speak to her mother (calling her "Fairy Godmommy") on her wand phone. In Abby's debut episode in 2006, Abby calls her mother to revert a spell that Abby cast on a toaster at the Fix-It Shop. At first, Abby reaches her mother's answering machine, which says she's currently having tea with Rumpelstiltskin. It has been said that her mother is Cinderella's Fairy Godmother[1] and she "majored in magic with a minor in gown design."[2] Abby's mother appeared in illustrated form in the storybooks Abby Cadabby's Rhyme Time (2007) and Abby's Pink Party (2011).
In the 2012 resource video, Little Children, Big Challenges: Divorce, it is revealed that Abby's mother and father are divorced. Although Abby's parents are no longer married and live in different houses, Abby learns that they both still love her. Here, Abby's parents are depicted in animated crayon drawings. Additionally, in a brief shot during a musical number, Abby's mother's fuzzy pink hands are seen tucking her daughter into bed.
In 2017, it was first revealed in Episode 4731 that Abby's mother was getting re-married to Freddy, a monster, with his son Rudy joining the family.
Abby's mother made her first full-fledged appearance as a Muppet in 2018, featuring in several videos produced for Sesame Street in Communities. Performed by Jennifer Barnhart, she gained the name Maggie Cadabby.[3] In a three-part series of videos about milestones, Maggie and Freddy are seen moving and unpacking boxes into their new home at 123 Sesame Street. Maggie also appears in a video series on school readiness. In one video, she helps console Abby after accidentally spilling some honeysuckle petunia juice. She made her first onscreen appearance on the show in Episode 5026 in Season 50. As shown in the episode, and in the digital storybook A Blended-Family Celebration, Maggie's magic wand is a pussy-willow twig.
Design evolution
The design of Abby's mother has went through a few iterations, but each one bears a strong resemblance to Abby herself. In early storybook illustrations, she has prominent tufts of hair resembling Abby's pom-pom pigtails, and she wears a similar blue petaled dress with long transparent sleeves. In Little Children, Big Challenges: Divorce, she's depicted in a yellow gown and with a flower in her hair. The final Maggie Cadabby sports a suburban mom look and wears visible pumpkin earrings, a reference to Abby's recurring habit of turning objects into pumpkins.
See also
Sources