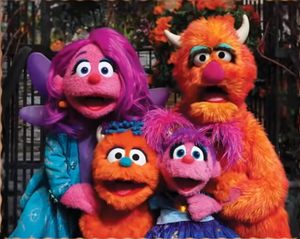 Maggie Cadabby is a Fairy Godmother and the mother of Abby Cadabby. Although she had been verbally referenced by Abby in various instances on Sesame Street, she was never seen, and wasn't named, until 2018.
In Abby's earliest appearances on the show, she would often speak to her mother (calling her "Fairy Godmommy") on her wand phone. In Abby's debut episode in 2006, Abby calls her mother to revert a spell that Abby cast on a toaster at the Fix-It Shop. At first, Abby reaches her mother's answering machine, which says she's currently having tea with Rumpelstiltskin. According to a tweet by Abby, her mother was Cinderella's Fairy Godmother and she "majored in magic with a minor in gown design."[1]
In the 2012 resource video, Little Children, Big Challenges: Divorce, it is revealed that Abby's mother and father are divorced. Although Abby's parents are no longer married and live in different houses, Abby learns that they both still love her. Here, Abby's parents are depicted in illustrated crayon drawings. Additionally, in a brief shot during a musical number, the mother's fuzzy pink hands are seen tucking Abby into bed.
In 2017, it was first revealed in Episode 4731 that Abby's mother was getting re-married to Freddy, a monster. Joining the family is Freddy's son, Rudy.
Abby's mother first appeared on-screen in 2018, in several videos produced for Sesame Street in Communities; where she is performed by Jennifer Barnhart and gains the name Maggie Cadabby.[2] In a three-part series of videos about milestones, Maggie and Freddy are seen moving and unpacking boxes into their new home at 123 Sesame Street.[3] Maggie also appears in a video series on school readiness. In one video, she helps console Abby after she accidentally spills some honeysuckle petunia juice.[4]
Abby's mother also made early illustrated appearances in the 2007 storybook Abby Cadabby's Rhyme Time and the 2011 storybook Abby's Pink Party.

See also
Sources
Community content is available under
CC-BY-SA
unless otherwise noted.