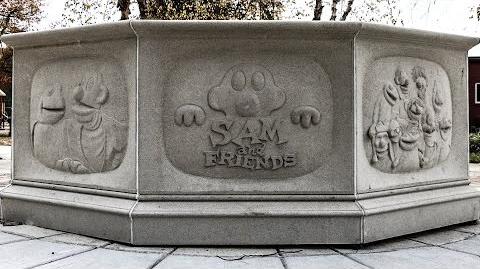 Magruder Park in Hyattsville, Maryland is home to a sculpture erected in memoriam to Jim Henson. The memorial was installed in July 2016 in the park's courtyard next to the recreation center (location and virtual view). The pieces feature characters from Sam and Friends on a flower planter, surrounded by benches with quotes from Henson's work and writings.
The piece was sculpted by Bill Culbertson for a development that was approved for $50,000 in 2012. Culbertson visited the original Sam and Friends puppets on display at The Smithsonian Institution for reference and worked with Muppet builder Bonnie Erickson to ensure accuracy to the characters.
The planter will also house the community's annual holiday tree. A dedication ceremony was reported to commence in the summer of 2016.[1] As of November 2016, the planter had not yet housed any floral arrangement.
See also
Sources