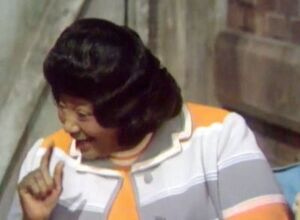 Mahalia Jackson (1912-1972) was an almost legendary gospel music singer. During the first season of Sesame Street, Jackson sang "He's Got the Whole World in His Hands" with the Kids, first seen in Episode 0029.
Posssessed of a powerful voice and enthusiasm, often accompanying herself with spontaneous clapping or foot stomping, Jackson gradually rose from church choirs to concerts to become one of the first superstars of Gospel music, with successful albums, a CBS radio series, and a significant cameo in the 1958 film Imitation of Life. During the emotional funeral sequence which serves as the film's finale, Jackson appears as a soloist, belting out "Troubles of the World," one of her best known songs.
Other spirituals and hymns closely associated with the singer include "In the Upper Room," "Walk in Jerusalem," and "Elijah Rock," amongst others. Jackson also appeared on What's My Line, The Ed Sullivan Show, The Hollywood Palace, and The Flip Wilson Show, the latter being one of her final performances.
External links
Community content is available under
CC-BY-SA
unless otherwise noted.