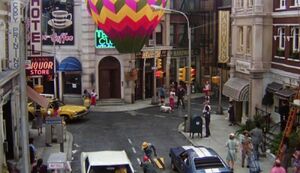 Main Street is an extremely busy thoroughfare featured in the opening minutes of The Great Muppet Caper. Kermit, Fozzie, and Gonzo land their balloon, thus starting "Hey a Movie!" The street is also where Lady Holiday has her jewels stolen, from Bond Jewellery. The heist on Main Street is covered by rival papers such as The Express, but not by The Daily Chronicle.
Main Street boasts a wide range of businesses, including Peter Maurice Fashions, tailor/cleaners, a print shop, hardware store, liquor store, bookstore, the National Bank, and Yvette's Beauty Salon. Stalls include a hot dog cart and a vegetable stand (with musical produce). Traffic tends to snarl, partly due to the heavy construction (for city improvements, according to a sign) and partly due to mishaps involving fleeing jewel thieves, blue photographers and chickens. Cab drivers, motorcyclists, monsters, and dancing pedestrians all converge here.
According to the storybook adaptation, Main Street is located in a "big American city" but no further geographic details are provided.