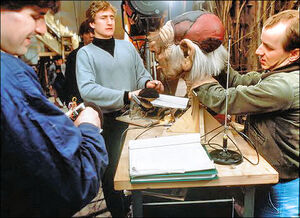 Mak Wilson (b. September 3, 1957) is an English puppeteer who has worked on numerous Creature Shop and Muppet projects, beginning with The Dark Crystal. He had previously toured on stage, often performing as a puppeteeer, mask and mime artist. Since the demise of the Creature Shop in London he is now freelance, but still works with two Muppet producers, Martin Baker and Pete Coogan, and their new company Baker Coogan Productions. In 2008, he completed the first season of a Playhouse Disney series called Bunnytown, produced and directed by another Muppeteer, David Rudman.
Puppeteer Credits
The Dark Crystal: Mystics (part-time)
The StoryTeller: Birds ("Sapsorrow"), Wolf, Bird & Salmon ("The Heartless Giant"), White Lion ("The True Bride")
Mother Goose Stories: Gosling #3, 40 characters; Puppet coordinator
The Animal Show: Yves St. La Roach (season 1 only), Swifty the Cheetah, Fluke the Dolphin, Flora the Koala, Dooley the Armadillo, Chaz the Chameleon, Ringo the Elephant, Victor the Rattlesnake, Chauncey the Turtle, Achilles the Shark, Harry the Rhinoceros, Plunk the Sea Otter, Clive the Kiwi, Nippy the Tiger Beetle, Morton the Beaver, Bosko the Baboon, Leapovitch the Frog, Cool the Kangaroo Rat, Robert the Red Deer, Sean the Rabbit, Billy Bob the Lemur
Dinosaurs: Andre (face), Earl Sinclair (face), Mr. Barry Wolfe (face)
Teenage Mutant Ninja Turtles II: The Secret of the Ooze: Michaelangelo (face)
The Bear: Lead puppeteer/Performance coordinator
Loch Ness: Lead puppeteer/Realtime CGI puppeteer
Babe: Babe puppeteer/Performance coordinator
Muppet Treasure Island: Realtime CGI puppeteer of the CGI mosquito (also singer on soundtrack)
The Adventures of Pinocchio: Lead puppeteer/performance coordinator
Lost in Space: Blawp animation supervisor/CGI puppeteer
Farscape: Animatronic puppeteer trainer and consultant
Mopatop's Shop: Mopatop (Seasons 1 and 2)
Construction Site: Scooch, Lug /director/co-producer
Jack and the Beanstalk - The True Story: Gallaga (head puppeteer), Animation Director of the Golden Harp
The Hoobs: Creative Consultant/OB Director
Frances: Post Animation Supervisor
Mee-Shee: The Water Giant: Performance animator/animation supervisor
The Hitchhiker's Guide to the Galaxy: Vogon Interpreter (voice), puppeteer/Jeltz puppeteer/Various/Assistant movement choreographer
The Furchester Hotel: Harvey P. Dull, Gonger, guests, puppet captain (season 1)
External links
Community content is available under
CC-BY-SA
unless otherwise noted.