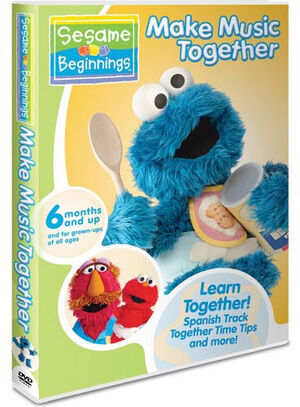 Make Music Together is a 2006 Sesame Street direct-to-video special in the "Sesame Beginnings" series.
Viewers can explore language, rhythm, and sound with their favorite Sesame Street babies. Be there when Elmo's daddy swings and sings with baby Elmo to "Swing Baby Swing!". Shake along as baby Prairie Dawn and her mommy make music and sing to "Shake Baby Shake!" "Make Music Together" is filled with delightful, easy-to-sing songs, and great ways to share the joy of music and dance with your baby throughout the day. The DVD features a special appearance by Wayne Brady and his daughter, Maile.
The DVD came with an exclusive stuffed toy of Baby Cookie Monster when sold at Wal-Mart stores. However all 31,000 units were recalled voluntarily, in partnership with the U.S. Consumer Product Safety Commission, when concern arose that the thread attaching a cookie to Baby Cookie Monster's hand could break.[1]
Credits
Produced by: Jocelyn Hassenfeld, Dionne Nosek
Co-Produced and Directed by: Kevin Clash
Written by: Christine Ferraro
Additional Performers: Jen Barnhart, Jim Kroupa, Peter Linz, Carmen Osbahr
Narration in "Information for Parents" section: Fran Brill
Music by: Loren Toolajian, Michael Ungar, Jocelyn Hassenfeld
Lyrics by: Christine Ferraro, Jocelyn Hassenfeld
Additional Lyrics by: Karen Kuflik, Cathi Rosenberg-Turow
Sesame Beginnings Theme Song Performed by: Brandy
Special Muppet Consultant: Kevin Clash
Jim Henson's Muppet Workshop: Jason Weber, Rollin Krewson, Victoria Ellis, Polly P. Smith, Michelle Hickey, Andrea Detwiler, Heather Asch, Sarah Luraschi, Connie Peterson, Tom Newby, Jane Pien, Jason Seck, David O. Roberts, Stephanie Braun
Art Director: Lyndon Mosse
Taped at Kaufman Astoria Studios
Sesame Beginnings Research Team: Jennifer A. Kotler, Ph.D, Jane S. Park, Evangelean Pope, Autumn Zitani, M.A.
Sources
Foreign Releases
Community content is available under
CC-BY-SA
unless otherwise noted.