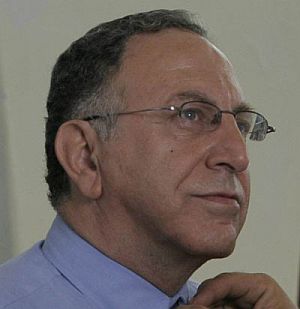 Makram Khory (b. 1945), also credited as Makram Khuri, is an Arab-Israeli actor who played Makram during the 1985 season of Rechov Sumsum, the Israeli co-production of Sesame Street.
Born in Jerusalem while the region was still under the British Mandate of Palestine, Khoury's family fled to Lebanon, but later returned. After graduating from Terra Santa College in Acre, Khoury studied acting with American improv coach Jacqueline Cronenberg. In 1970, he went to London to continue his training, returning to Israel in 1973, and establishing himself with the Haifa Municipal Theater for nearly twenty years.
In film, Khoury has collaborated thrice with Israeli director Michel Khleifi and appeared in the international films Three Weeks in Jerusalem (with Faye Dunaway), The Body (with Derek Jacobi), Steven Spielberg's Munich (as assassinated Palestinian translator Wael Zwaiter), and Free Zone (with Natalie Portman). Other films include leading roles in The Syrian Bride (as the title character's stubborn father) and the political fantasy Forgiveness (as a doctor who tries to erase the memories of his patients). On television, he co-starred in the Hebrew mini-series Michel Ezra Safra and Sons and appeared in two 2004 episodes of The West Wing as the Chairman of the Palestinian Authority.
External links
Community content is available under
CC-BY-SA
unless otherwise noted.