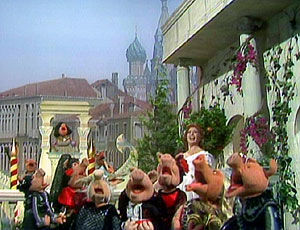 Malcolm Stone (b. 1948) served as one of the art directors for The Muppet Show, beginning in the second season, personally helming over 20 episodes. He received two Emmy Award nominations for his contributions to the show: the first for episode 409 with Beverly Sills, the second for re-creating the look of John Tenniel's Alice in Wonderland illustrations, as backdrops for episode 506.
Stone also served as art director on The Dark Crystal (freelancing through his newly created Mightart Ltd.), and contributed to episodes of The Jim Henson Hour and Fraggle Rock. For his work on Mother Goose Stories, Stone was nominated in 1991 for an Cable ACE Award.
Besides The Muppet Show, his work at ATV Network included work for The Gene Kelly Show, Peter Pan, and Shakespearean productions. He earned two more Emmy nominations, in 1989 for War & Remembrance, and 2002 for the mini-series Band of Brothers. He became interested in screenwriting around 1990, starting with a script about Tarzan in World War I.
External links