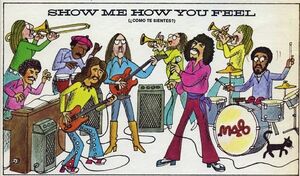 Malo is a musical group that was founded in the late 1960s. Original members included Jorge Santana, the younger brother of Carlos Santana.
Malo appeared on Sesame Street's first bilingual album, ¡Sesame Mucho!, where they performed "Show Me How You Feel" and "Welcome!", with lyrics in both English and Spanish. The group as heard on the album consisted of Jorge Santana (lead vocals, guitar), Tony Smith (vocals, drums), Pablo Tellez (vocals, bass), Ron DeMasi (keyboards), Ron Smith (trumpet), Steve Sherard (trombone), Michael Fugate (trumpet), Francisco Aguabella (congas), and Nick Mendez (timbales). Santana, Tony Smith, and Tellez received credit for vocals on the album back, while DeMasi, Ron Smith, and Sherard were credited for musical arrangements.
Community content is available under
CC-BY-SA
unless otherwise noted.