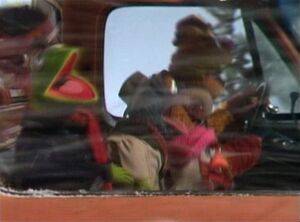 Mame is a 1966 Broadway musical written by Jerry Herman, originally starring Angela Lansbury and Bea Arthur. The musical was adapted to film in 1974 starring Lucille Ball.
Songs performed by the Muppets
References
Connections
Ed Herlihy was a replacement as Dwight Babcock during the original Broadway run.
Alan Muraoka played Ito in a 2006 Kennedy Center short-run production.
Sources
↑ A Bit of a Chat with Ken Plume March 27, 2018 episode with Craig Shemin (01:09:35)