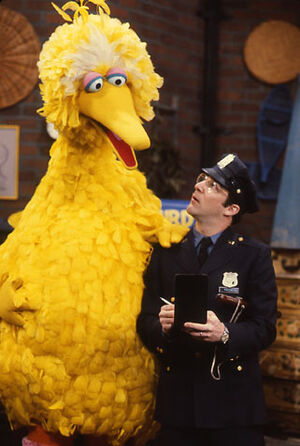 Mandy Patinkin (b. 1952) played the villainous Huxley in the 1999 film The Adventures of Elmo in Grouchland.
He previously appeared on Sesame Street in Episode 2095, playing Officer George Patinkin helping Big Bird locate a missing Barkley.
Patinkin also appeared in the pilot episode of Shalom Sesame. He subsequently was featured in the episode "The People of Israel," appearing in one segment as an MTV-style video host, and in another with his son Isaac, saying the Hebrew alphabet. His son has also appeared on Sesame Street during season 16, in inserts with Telly Monster discussing a variety of topics.
Patinkin also hosted a special on the Odyssey Channel in January of 1999 which detailed the changes being made to the network by its new owners, Hallmark and Henson. The special included an interview with Kermit the Frog, the Star Wars episode of The Muppet Show, and a featurette on Muppets in water.
In June 2017, Patinkin appeared in a video for the International Rescue Committee to discuss the importance of educating refugee children with Super Grover.
Among Patinkin's vast Broadway credits are Stephen Sondheim's Sunday in the Park with George, Evita, and Hamlet. Television and film credits include Law & Order, The Simpsons, Yentl, and Dick Tracy.
External links