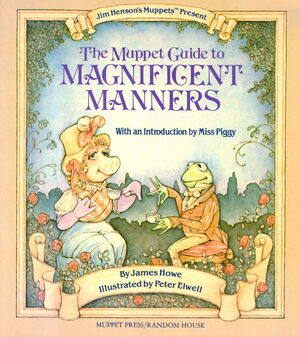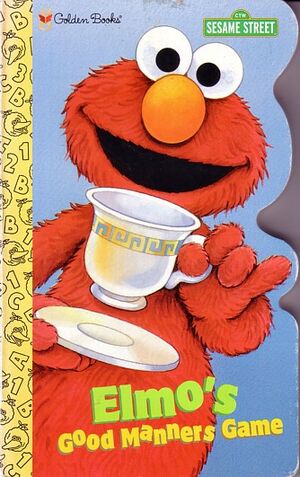 In sociology, manners are the unenforced standards of conduct which show an individual to be cultured, polite and refined. They are like laws in that they codify or set a standard for human behavior, but they are unlike laws in that there is no formal system for punishing transgressions.
Teaching manners and social responsibility is a common learning objective of educational media - including such Muppet productions as Sesame Street and Bear in the Big Blue House.
Several books on manners and etiquette have been released by the Muppets. These books give basic guides to mannerly living including politeness, kindness, table manners and how the use of "magic words". These books include:
Politeness
Politeness is best expressed as the practical application of good manners or etiquette. Using words such as "please", "thank you", "excuse me" and "your welcome" are all part of good manners. Bear teaches about these values in the book Bear Loves Visitors! while Baby Ernie learns about the importance of "please" in the book Say the Magic Word, Please.
Sharing
It is important for children to learn the importance of having good social skills. Sharing is an important social skill, that everyone must learn, although children often have to learn to share their toys or take turns with other children. Several Muppet productions have addressed the issue of sharing.
The Bear in the Big Blue House episode Share, Bear focuses on the importance of sharing when Ojo learns to share his toys with Treelo, and Tutter learns to share a sandwich with Pip and Pop. The episode features the song "Always Something to Share" which reinforces the importance of sharing. The episode was also adapted into the book Two Can Share, Too, which adapts the Ojo/Treelo into storybook form.
In the Bear in the Big Blue House episode What's Mine Is Yours also deals with sharing. Ojo learns to share with Tutter and Treelo, while Bear is busy sharing with Pip and Pop, Ojo, Tutter and Treelo.
Both of these Bear episodes were released on the home video Sharing with Friends.
The Muppet Babies story book I Can Share also focuses on the importance of sharing with Baby Kermit and Baby Fozzie.