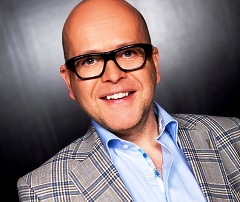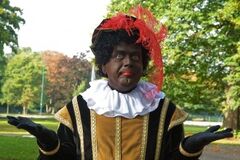 Marc-Marie Huijbregts (b. 1964) is a Dutch comedian, actor, and presenter who has portrayed the role of Sorrypiet (Sorry Pete), one of Sinterklaas' many Zwarte Piet (Black Pete) helpers, since 2003.
The character appeared in the 2006 episode of Sinterklaas in Sesamstraat. In that year's storyline of the Sinterklaasjournaal (Sinterklaas News) Sorrypiet lost Sinterklaas' big book that contains the names of all children and tells whether they've been nice past year or not. Eventually they retrieve the book in Sesamstraat and Sorrypiet repeatedly apologizes for the inconvenience he caused.
Marc-Marie Huijbregts is a popular TV personality in the Netherlands, known for his quick wit and particularly high voice. In 1998 he met Raoul Heertje, who invited him to join his comedy collective Comedytrain. Two of his fellow members are Cindy Pieterse and Theo Maassen. Over a year later Huijbregts won Cameretten 1999, one of the most important comedy contests of the country, taking home all three prizes (jury, audience and personality), something that happened only two times before. In 2000 he received the Pall Mall Exportprijs, an award for notable young artists, and he became team captain on Dit was het nieuws, the Dutch version of BBC's comedy panel show Have I Got News For You. In 2004 Huijbregts won the first VSCD Cabaretprijs, an award for 'the most impressive show of past season'.
As an actor he had a recurring guest role in Wim T. Schippers' TV series We zijn weer thuis (1989, We're Back Home) alongside Schippers and Dick van den Toorn. He also starred in Joram Lürsen's highly succesful movie Alles is liefde (2007, Love Is All) and he played the lead role of Lukas in Norbert ter Hall's 2006 remake of comedy TV series 't Schaep met de 5 pooten[1] (1969). The original series featured Adèle Bloemendaal in one of the lead roles. Both versions featured music composed by Harry Bannink. Huijbregts returned as Lukas in the sequels 't Vrije schaep (2009) and 't Spaanse schaep (2010).
Note
↑

The title literally means 'The Sheep with the 5 Legs', and refers to the name of the lead location of the show, a local café.