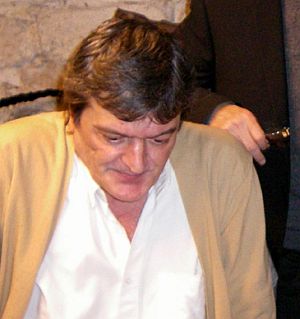 Marc Alfos is a French voice actor who played Captain Bialar Crais on the French dub of Farscape. He also dubbed Billy Bones in L'Île au trésor des Muppets (Muppet Treasure Island) and the Man in Black in Les Muppets dans l'espace (Muppets from Space).
Alfos has dubbed such actors as Kevin James on The King of Queens, Russell Crowe in Gladiator and Master and Commander: The Far Side of the World, Robert Beltran on Star Trek: Voyager, Jason Flemyng in The League of Extraordinary Gentlemen, M. C. Gainey in Wild Hogs, Vladimir Kulich (as the Beast) on Angel, Robert Patrick on Lost, and Jim Backus in Pete's Dragon.
Animation credits include the huntsman in Snow White and the Seven Dwarfs, Sarge in Pixar's Toy Story and Toy Story 2, Mr. Incredible in The Incredibles, Maurice in Madagascar, and Bruton in Dinosaur, plus the French animated features Renaissance (as Nusrat Farfella), Asterix and the Vikings (as Grossebaf), and the Snow White parody Blanche-Neige, la suite (as the ogre).