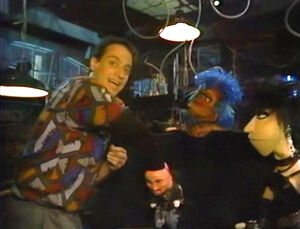 Marc Weiner (b. 1955) is a puppeteer best known for his Nickelodeon series Weinerville.
Weiner appeared in Episode 1647 of Sesame Street as a representative of the local telephone company, installing a new payphone outside the Fix-It Shop.
Weiner later appeared with his puppet Rocko in the Gorilla Television segment of episode 105 of The Jim Henson Hour. Unlike Ubu, Chip, and Zondra, Marc is shown to appreciate Jim Henson's show. Ubu and Chip end up angering Marc's puppet Rocko when Marc's hypnosis on him was interrupted.
External links