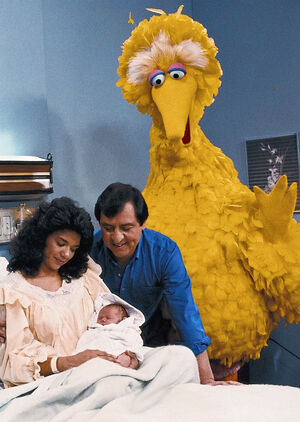 "Maria's pregnancy and the birth of Gabriela" is a Sesame Street story arc that took place over several episodes in Season 20 (1989).
Very soon after Maria and Luis fall in love and get married, the same season featured a non-consecutive multi-episode arc in which Maria and Luis have a baby named Gabriela (later nicknamed Gabi).
As with the marriage arc, the pregnancy storyline was developed to reflect Sonia Manzano's personal life with the knowledge that Manzano was planning to start a family with her husband Richard Reagan. Their child, Gabriela Rose Reagan (who would play Maria and Luis's baby on the show for a few years), was born in April of 1988, seven months before production began on the episode where Maria announced her pregnancy on the show. Manzano wrote much of the arc, including the last three episodes in the series.
To address the show's curriculum, researchers interviewed sixty preschoolers and thirty sixth graders in New York City beginning in February of 1988. Younger children had difficulty understanding words like "pregnancy" and concepts like a womb, so the writers kept the details vague, also opting not to venture into the area of sex education.[1]
Some episodes were rebroadcast in Sesame Street Unpaved years later and were later made available for streaming on HBO Max. Scenes from the saga appeared in A&E Biography: Sesame Street and 40 Years of Sunny Days.
Episodes
Picture
Description

Episode 2544

---

After cancelling plans to take Big Bird to the park today due to too much work at the Fix-It Shop, Maria and Luis return to Big Bird's nest to make a special announcement: they're going to have a baby. They explain that, together, they started a baby growing inside Maria's body so that they could have a family. After Big Bird broadcasts the news to the whole neighborhood, and the expectant parents sing about their excitement, Big Bird helps them start practicing what it will be like to have a baby in nine months.

Episode 2547

---

In the weeks following their announcement, Maria found time to practice caring for a baby in Episode 2547 when she looked after Baby Natasha, proving herself both to Telly Monster and Forgetful Jones. Later, Luis tells Forgetful Jones that the baby will be coming in eight months (and he's astonished that Forgetful knows how to count to eight in Spanish).

Episode 2553

---

Continuing to work in the Fix-It Shop, Luis finds the time to read "Taking Care of Baby" in between fixing toasters. Thinking he's alone while walking through the steps of changing a diaper or administering a bottle, Luis finds that he's being watched by Gordon, who, as an experience father himself, assures Luis that he will make a great dad. Luis also seizes an opportunity to demonstrate to Ruby, who initially seeks out Maria for parental advice in taking care of her doll, that fathers have just as much a role in raising a child.

Episode 2558

---

Big Bird accompanies Maria to the clinic where she's getting her regular check-up to see if the baby is healthy. The doctor goes through the standard exam for a pregnant woman and shows Big Bird how she uses a special microphone to hear the baby's heartbeat. Maria is allowed to borrow the Doppler fetal monitor so that everyone back on Sesame Street can share their interpretation of the heartbeat. The sound even features in a game show hosted by Sonny Friendly, and inspires Maria to sing a song about her baby's heart beating alongside hers.

Episodes 2559-2571

---

The next couple of months are filled with the typical goings-on for a couple expecting. Attempts at naming the baby include reading a book of names with Snuffy in Episode 2559, and proposals from Big Bird in Episode 2564 and in the form of a game in Episode 2571. Maria adheres to the doctor's orders of four glasses of milk per day in Episode 2565 and experiences the infamous food cravings of a pregnant woman in Episode 2563. She gets some more help in infant care from Gladys the Cow who dresses as a baby for an acting role in Episode 2568, lets Big Bird sing to the baby in her tummy in Episode 2570, and keeps Luis on his feet (literally) in Episode 2569 as he keeps missing out on feeling the baby kick.

Episode 2574

---

As a now expectant grandmother, Mrs. Figueroa comes to visit and Luis uses the opportunity to fill her in on everything she's missed with a series of photos he's taken. The pictures mainly detail a visit they made to the clinic together in which they had a sonogram done: the first picture of their baby. Mrs. Figueroa sings to her daughter and unborn grandchild, presents Maria with a gift blanket for when it's born and helps Alice fall asleep using a lullaby she used to sing to Maria when she was little.

Episodes 2579-2599

---

In the weeks leading up to the baby shower, Maria and Luis share in a number of other teaching moments for them and their neighbors. Telly Monster attempts to report on how a baby eats and breathes in Episode 2579, but he's astonished to learn that an umbilical cord is responsible for both. Much of Episode 2586 is spent deciding how the baby room will be decorated (duckies or bunnies?) and the hatching of a litter of ducklings provides a preamble to the big event in Episode 2599.

Episode 2600

---

The residents of Sesame Street throw a "Jack & Jill" baby shower in the yard for Maria and Luis. Gina explains to Big Bird that it's a special kind of party held before a baby is born. Big Bird realizes he'd like to find a gift for the baby, and Snuffy subsequently gets in on it, too. The adults all show off the necessities they've purchased, while Big Bird and Snuffy eventually settle on writing a poem.

Episode 2601

---

Telly learns that Luis has prepared overnight bags to store at home and in the Fix-It Shop so that wherever Maria is when it comes time to have the baby, they'll be ready to go. He spends the day assembling an assortment of bags of his own to help in the case of any unforeseen factors, and, with Meryl Sheep, imagines a scenario in which Maria gets to the hospital in a pumpkin like Cinderella.

Episode 2603

---

Luis is reading another baby book, Pregnancy & Child Birth, which he uses to assess Maria's hunger and fatigue. They've also begun regularly practicing breathing techniques that will help Maria relax during childbirth. Big Bird has taken it upon himself to assist by way of issuing sleep commands that act almost like hypnosis, and inspires Luis to imagine what it would be like if he were pregnant.

Episode 2606

---

Following the events of Episode 2586, it's time to finish getting the nursery ready. Hiroshi helps Luis carry the furniture in, while Big Bird supervises how the toys should be arranged. Meanwhile, Slimey, Irvine and Alice collaborate on a gift for the baby: a crib mobile made from pieces contributed by each of them.

Episode 2608

---

With the arrival of the baby drawing closer, the expectant parents imagine what their child will be like: Maria envisions having a boy, while Luis sees them having a girl. Count von Count is less interested in the baby's sex, and instead focuses on the number of offspring, conceptualizing Maria giving birth to quadruplets in the hospital. Meanwhile, Luis receives some parenting advice from fellow dad Biff, and considers the gift of live animals from Simon Soundman.

Episode 2609

---

Luis has to be away for most of the day, so he asks Uncle Wally to look after Maria while he's gone. At lunch, he serves her several culinary combinations suggested by Oscar that ruin his appetite. Later, he arranges for the Honkers to play music for the baby, while he waltzes with Maria.

Episode 2611

---

Following Sonny Friendly's game show in which she wins a picture of a baby carriage, Maria tells Big Bird that her doctor said the baby would most likely be born this week. After she explains to him how the contractions will work, Big Bird decides it would be in everyone's best interests if they all practiced everything they'd have to do when the time comes to go to the hospital for the birth. Upon their return from their dry run in Susan's Volkswagen, Maria starts to feel a push for real...

Episode 2612

---

Grundgetta arrives at Maria's apartment after hearing that she'd gone into labor, but Maria explains that it was just a false alarm. While she's there, Grundgetta can't help but find herself overcome with warm feelings for all of the cute things in the nursery. Oscar and the Grouchketeers attempt to remedy her fall from grouchiness. Later, Grundgetta makes Maria promise not to tell anyone how cute she looked trying on a baby bonnet, just as Maria starts to feel a push again...

Episode 2613

---

Amidst a flurry of cleaning and vacuuming, Luis speaks to his uncle on the phone, clarifying that the news he heard of Maria's going into labor was just another false alarm. After she's cleaned the entire apartment — a behavior Luis has explained is normal for a woman on the verge of giving birth — Maria finds herself cleaning at Hooper's Store and in front of Oscar's trash can. Practicing counting between contractions again, Maria once more starts feeling a push...

Episode 2614

---

Luis is having trouble sleeping at night after the baby failed to come, yet again. His singing awakens Maria, who suddenly feels a push unlike any other she's felt before. This is it; she's really going into labor this time. Telly, the Count, Susan, and Gordon all gather to put the baby prep practice to the test. When it's discovered that the Volkswagen has been towed for being parked illegally, and they have trouble hailing a taxi, Oscar arrives in the Sloppy Jalopy to give Maria and Luis a ride to the hospital.

Episode 2615

---

The next morning, everyone is abuzz over whether or not Maria has had the baby yet. They're expecting a call from Luis at Hooper's Store, but they keep missing it. Oscar finds himself having a crisis of conscience when he discovers he feels happy about the baby's arrival, so he heads home to the safety of his trash can. When Gordon, David, and Bob try to get any information out of him, Oscar, in defiance of his moral predicament, doubles down on his grouchiness and tells them nothing. They decide to just head to the hospital themselves, and, upon arrival, find Luis who announces that they've had a girl. In the birthing room, Maria and Luis introduce their friends to their baby, Gabriela.
Sources