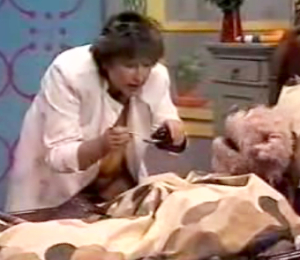 Maria Lindes (b. 1942; birth name Maria Verhoef) is a Dutch actress who voiced Red Fraggle (renamed Jet) and Ma Gorg on De Freggels, the Dutch-language dub of Fraggle Rock. She has also dubbed various Muppet characters on Sesamstraat, including Baby Bear, Baby Natasha, Athena, Flo Bear, and Cinderella's Fairy Godmother.
In the mid-1980s, Lindes made an on-camera appearance on Sesamstraat, as a doctor assigned to a treat a sick Ieniemienie, but who ends up diagnosing Tommie as well.
Prior to her Muppet dub work, Lindes starred as Viola on the musical comedy television series De Holle bolle boom. Her other voice work includes directing and acting in various Disney dubs, of both features and television series, as Bambi's mother in Bambi (which she co-directed with Aart Staartjes), Fa Li in Mulan, Magica de Spell in Duck Tales, Binkie Muddlefoot in Darkwing Duck.