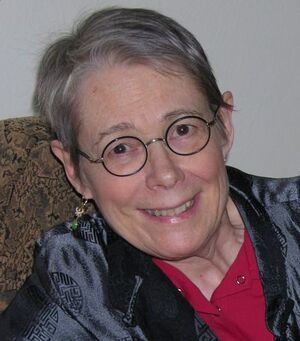 Marian Hailey-Moss (b. Marian Hailey, 1941) is an actress and children's book author who, from 1973 to 1985, was married to Sesame Street writer and composer Jeff Moss. She was heard on the 1982 album For the First Time as the Royal Grocer and Princess Kathy in "The King Who Couldn't Whistle."
Hailey-Moss performed on Broadway as an ingenue in the sixties and seventies, including Mating Dance (1965, with Richard Mulligan), The Castro Complex (with Raúl Juliá), revivals of Harvey (with James Stewart) and The Women, and Company (a replacement as Amy during the original run). She was part of the ensemble cast in the 1970 film Lovers and Other Strangers (with Cloris Leachman and Anne Meara) and appeared in episodes of the TV series The Trials of O'Brien (with Peter Falk) and Love, American Style.
As a voice actress, Hailey-Moss was heard in over a dozen episodes of CBS Radio Mystery Theater and recorded narration and character voices for Paul Fierlinger educational shorts and Beginner Books videos. She shifted into working as a psychotherapist and, in the 21st century, writing children's books.
External links
Community content is available under
CC-BY-SA
unless otherwise noted.