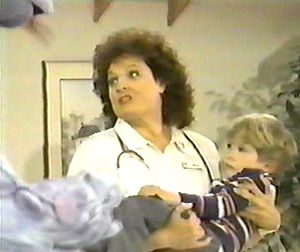 Marianne Muellerleile (b. 1948) is a character actress who guest starred on the Puppetman pilot as the nurse. She was a regular on the sitcom Life with Bonnie as Gloria the housekeeper, and has frequently appeared on soap operas, including Santa Barbara (as Mrs. Sturm) and Passions (as the axe-wielding psychopath Norma Bates, on and off since 2001).
Often cast as nurses, neighbors, and housekeepers (with the occasional "pig wrangler" or "booze hag" to break up the monotony), Muellerleile has made guest appearances on Lois & Clark: The New Adventures of Superman, ER, Nip/Tuck, Married with Children, 7th Heaven, The Twilight Zone, Murphy Brown (as yet another of Murphy's secretaries), Columbo, and The Jeffersons. Film credits include The Terminator, Life Stinks (with Mel Brooks), Soapdish (with Whoopi Goldberg and Kevin Kline), Clifford (with Charles Grodin and Martin Short), The Road to Wellville, Smokin' Aces, and Norbit (with Eddie Murphy).
External Links
Community content is available under
CC-BY-SA
unless otherwise noted.