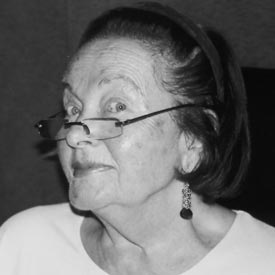 Marianne Wischmann (1921-2009) was a German voice actress who dubbed Miss Piggy on Die Muppet Show and in the Muppet movies and specials through 1987 (before Berno von Cramm took over the role). On Die Fraggles, Wischmann voiced Mavis the Mirror, but did not provide her singing voice.
In her younger days, Wischmann appeared in post-war German films. She later moved into dubbing, and was heard as Ingrid Bergman in Notorious, Olivia de Havilland in Hush... Hush, Sweet Charlotte, Coral Browne in Theater of Blood, and in later years, Doris Roberts in National Lampoon's Christmas Vacation. Her TV dub credits include Liz Sheridan on ALF and Renee Taylor on The Nanny. In animation, she was the Aardvark in the "Ant and the Aardvark" portions of The Pink Panther Show and the Queen of Hearts on the Alice in Wonderland anime.
External links
Community content is available under
CC-BY-SA
unless otherwise noted.