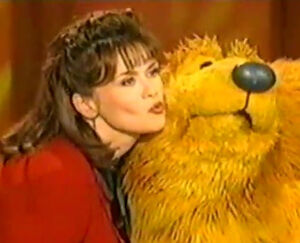 Marie Osmond (b. 1959) is a singer from Utah who rose to fame as half of a duo with her brother Donny Osmond. Donnie and Marie Dodo in Follow That Bird were named after the singing siblings.
From 1998 to 2000, the pair hosted their own talk show, Donny & Marie. During one of at least two appearances made by Bear, Marie Osmond kisses her guest, but admits to being careful so as not to stain his fur with her red lipstick. After some encouragement from her brother and the audience, she plants one on Bear's nose, leaving a lip mark behind. Bear later teaches her how to do "The Bear Cha-Cha-Cha."
Aside from the television work, Marie has appeared on Broadway with her brother in a Christmas special, and as Anna in The King and I.
External links