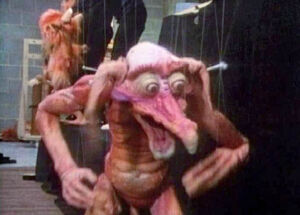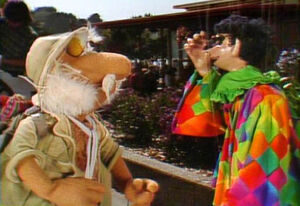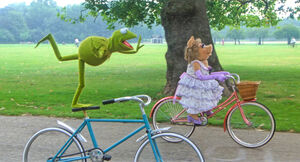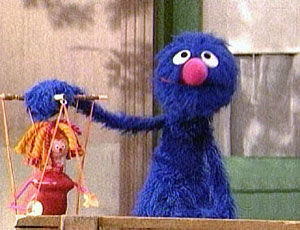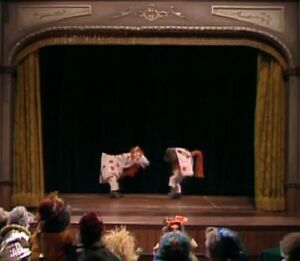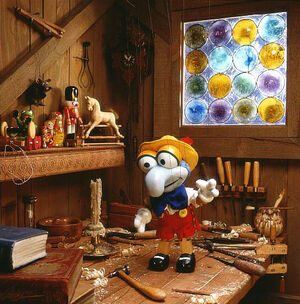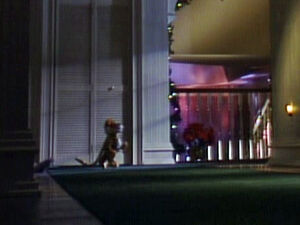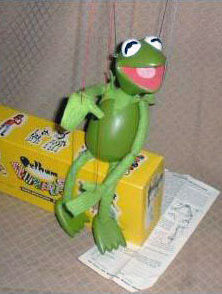 Marionettes are puppets controlled by strings. Strings have been used to move puppets of different styles, shapes, and levels of complexity. Though there's no telling when the first string puppet was used, in the western world, they originated from the medieval times in France, where the term "marionette" originates, and can be found in every country in the world.
Frank Oz's puppetry experience started by performing marionettes with his family.
One of the most famous marionettists of our time is Bil Baird.
Below is a list of the use of marionettes in Henson/Muppet productions:
A dancing roast chicken.
A dancing skeleton.
Marionettes are demonstrated.
Rufus runs alongside Cinderella into the garden in a wide shot.
Frogs hopping during the Frogs number.
Leroy full body marionette for wide shots.
Catgut dances with the rats.
All appear as marionettes in certain shots of the travelling scenes, and again when they stake out the farm house.
General marionette assists on full-bodied puppet characters.
Sir Didymus appears in a few shots as a marionette.
Flying bird-like goblins characters.
Marionette assists on certain costumed characters.
Behind the Scenes footage from Inside the Labyrinth shows some of the Fireys being performed as marionettes.
Marionettes used in production.
A marionette of Rugby Tiger was used for the scene where he sneaks down the hall toward the stairs.
Gonzo's arms and legs after he has been stretched out.
A brief shot of the lab rats as they make their way through the air vent.
Marionettes Existing Within Muppet Productions
Notes
Merchandise
See also