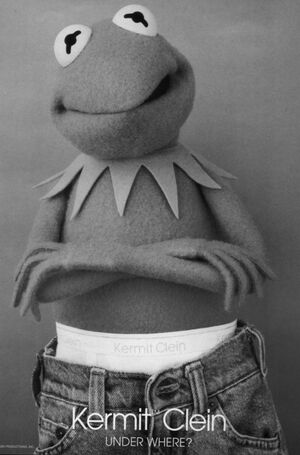 Mark Wahlberg (b. 1971) is an American actor, film and television producer, former rapper and model. In his early artistic years he was known as Marky Mark, becoming famous for his band Marky Mark and the Funky Bunch.
Wahlberg appeared in films such as Boogie Nights, Three Kings, Planet of the Apes (2001), and The Italian Job. He has also served as the executive producer of the TV-series Entourage and Boardwalk Empire.
Kermit the Frog has posed as Marky Mark in a spoof of one of Calvin Klein's most famous ads. The iconic image was used on Muppet merchandise such as calendars, posters and postcards.
On Sesame Street, the monster dance trio Baby Tooth and the Fuzzy Funk is a reference to Mark's band's name.