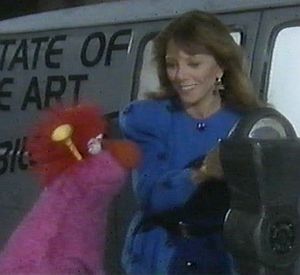 Marlo Thomas (b. 1937) is an actress, activist, and the daughter of comedian Danny Thomas. She gained fame on the TV sitcom That Girl (1966-1971), where she starred as vivacious struggling actress Ann Marie. She later became better known for her children's books and albums, and her work for St. Jude's, her father's charity hospital. Her 1973 TV special Free to Be... You and Me won an Emmy Award.
The Muppets, especially Kermit the Frog, participated in the Free to Be Foundation's 1980s follow-up, Free to Be... a Family, contributing to the book, album, and TV special. Christopher Cerf and other Sesame Street veterans played key roles in all three incarnations. Thomas sang "Something for Everyone" with Kermit on the album, while in the special, she borrows a quarter from a passing Honker.
Thomas and the Muppets worked together yet again on the 2004 album Thanks & Giving All Year Long.
Thomas was reunited with Miss Piggy on the red carpet of the Good Housekeeping Shine On Event with her husband Phil Donahue.
Thomas and Sesame Street creator Joan Ganz Cooney were both members of Kappa Alpha Theta, the first Greek-letter fraternity for women.
External links