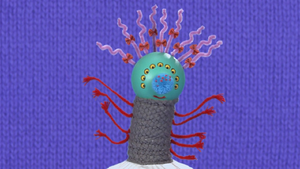 "Martian Beauty" is a song by Bud Luckey about a Martian beauty with features in sets of nine: hairs, bows, eyes, nostrils, arms and toes. Much like The Alligator King and Candy Man, it was performed by Turk Murphy and his Jazz Band, with Murphy on vocals and Luckey on banjo.
The song was re-recorded for the album The Count Counts, with the vocals being sung by Richard Hunt. This version is distinct in that the titular martian is given a voice, provided by Jerry Nelson.
A remake of the segment was produced for Season 45, using a patchwork puppet of the titular character (created by Brian Haimes). This version does not include the lyric about the martian's arms. (First: Episode 4524)
The Martian Beauty can be seen with The Martians during the credits of Sesame Street's 50th Anniversary Celebration.
Releases
Audio
Video
Publications
Online
Other