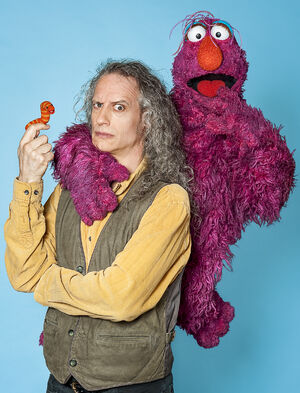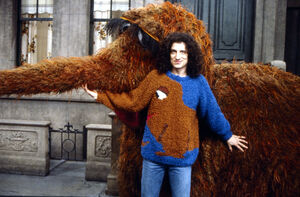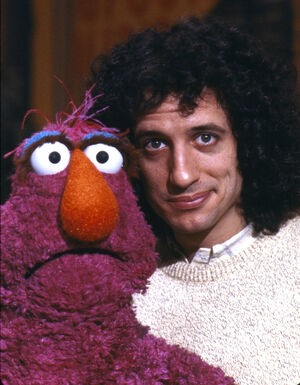 Martin P. Robinson (b. March 9, 1954) is a puppeteer who has performed on Sesame Street since 1981. His characters include Telly Monster, Mr. Snuffleupagus and Slimey. He is married to Sesame Street writer Annie Evans. Together, they ran the Sesame Workshop parenting blog Sesame Family Robinson.
Bio
Martin Robinson has been on staff at The Jim Henson Company since 1981. Early roles have included Mr. Snuffleupagus, Telly Monster, Slimey, and Buster the Horse, though all were previously performed by other people. He also performed Oscar's niece, Irvine, and his mother, Mrs. Grouch, and has voiced many announcers. In addition to performing, he has played an active role in hiring and training puppeteers for local Sesame Street productions in Mexico, Israel, Palestine, Egypt, Russia, and Bangladesh.
Other Henson productions that Robinson has performed in, outside of Sesame Street, have included the Farmer in The Tale of the Bunny Picnic, the animatronics for Leonardo in Teenage Mutant Ninja Turtles, and The Cat in the Hat on The Wubbulous World of Dr. Seuss.
Robinson's stage credits include designing, building and performing Audrey II in the original 1982 off-Broadway and 2003 Broadway productions of Little Shop of Horrors, and set designing and building for the Broadway production of Stephen Sondheim's Frogs.
Robinson got into the business as a member of the Bil Baird Puppet Company. According to Sesame Street Unpaved, "Martin Robinson became a performer so that he could play a wider variety of characters than his "nice guy" looks would have allowed him to play."[1]
On Sesame Street, Robinson's frequent performing partners have included Caroll Spinney (who played Big Bird to his Snuffy, and Oscar to his Telly), Kevin Clash (whose Elmo was often paired with Telly, and J. P. with Tito for "Miami Mice"), and David Rudman (Baby Bear).
Robinson has served as the assistant puppet captain for the series since the late 2010s, and has been credited on-screen as such starting with season 51.
He has twice been nominated for a Daytime Emmy Award: in 1995, beaten by Shari Lewis, and in 2009 by Kevin Clash.
Marriage on Sesame Street
Robinson and Annie Evans married on the set of Sesame Street. The pair met in 1993 at the National Playwrights Conference at the Eugene O'Neill Theater Center in Connecticut, where Martin was creating a puppet show to premiere during the conference. Martin proposed to Evans on New Year's Eve 2007, and the two were married on the steps of 123 Sesame Street in Studio J at the Kaufman Astoria Studios in Queens.
The ceremony was scripted by Evans, with Caroll Spinney as Oscar the Grouch appearing from his trash can to heckle the couple.[2]
Henson Puppeteer Credits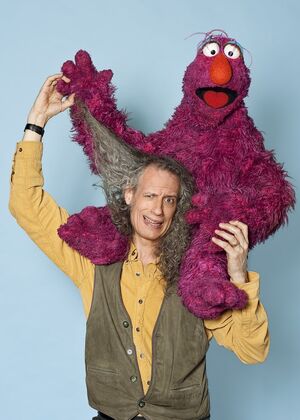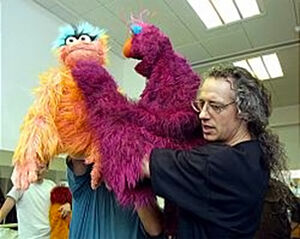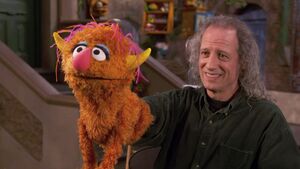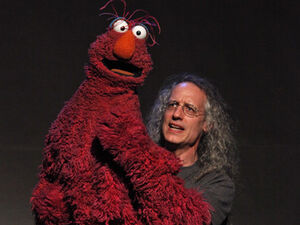 Sesame Street: Abigail Snuffleupagus, Alligator (Episode 4201), The Big Bad Wolf (occasional), Birthday Cake (episodes 4707 and 4709), Buster the Horse, Captain Donald Cragen Muppet, Carl Mericana, Clancy ("Hill Street Twos"), Dicky Tick, Dieter Dachshund, Dinger, "Dinner Theatre" father, Dirk, Donald Grump, Dr. No, Enzo, Esme, Farmer McGregor, Firefighter Jackson, Fluffy, Forgetful Jones' father, Frank Lloyd Left, Frazzle (Episode 3156), Gyro Spiniapolis, H-Man, Hans the Duckling, Henny Drummschtick, Herbert Hare, Herry's Father, Hilton Creamer, Honkers, Irvine, Jack, Jane Snuffleupagus, Joe Hundred Guy's Butler, Kermit the Forg ("Monsters of Venice"), King Oliver, Kuwa, "Let's Go Driving" father, The Log Bird, Luke Warm, Luther O'Possum, Manolo, the Martians, Mommy Snuffleupagus, Monty, Mr. Browning, Mr. Bull, Mr. Mustache (Orange is the New Snack), Mr. Policeman Fishy, Mr. Snuffleupagus (1981 - present), Mrs. Grouch, Murray Matisse, Newt the Nightwatchman, Next Generation Captain, Old King Cole (Episode 3202), Old Lady from "Katie and the King", Old MacDonald, Orange Chorus Monster ("Sound of the Letter L"), Penguin ("Antarctica!"), Peter Piper, Phil, Pipe Organ, Pizzeria Chef, Prince Charming (1995), Proud, "Readers of the Open Range" Pumpkin cowboy, Pumpkin singing dentist, "Once Is Not Enough" father, Robin (Theater in the Park), Romeo Scuggs, Ronald Grump (Episode 2399), The Royal Apple Tree, The Royal Paper Maker, The Sandman, Scram-I-Am, Shelley the Turtle, Sir Rodney, Slimey, Smelly, Smudgey, Snail, Snuffertiti, Sullivan, The Sun (from "Happy!"), Telly Monster (1984 - present), Tito, Tony, The Tortoise (1987), Vincent Twice, Walter Cranky, Warren Blechstein (Episode 4127), William, various Anything Muppets, fish and others, Zucchini (Episode 3292)
Little Muppet Monsters: Moose, Rat
Teenage Mutant Ninja Turtles: Leonardo (face)
Rock & Roll!: Police Officer
Dog City: Scratch McCollie, Mr. MacTaggart, others
Learning to Share: The Big Bad Wolf
Elmo Saves Christmas: Telly Monster, Mr. Snuffleupagus, one of Santa's Elves
Telling the Truth: The Big Bad Wolf
The Wubbulous World of Dr. Seuss: The Cat in the Hat (Season 2), Civil Servants #1, #2, #5, and #6, The Milk, and The Old Man
Panwapa: Tungar the Tiger (puppetry only)
A Muppets Christmas: Letters to Santa: Penguin, Dr. Teeth (undubbed first line)
Non-Henson Credits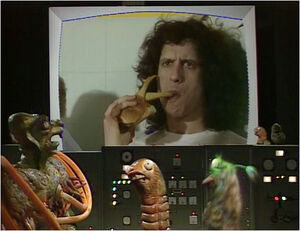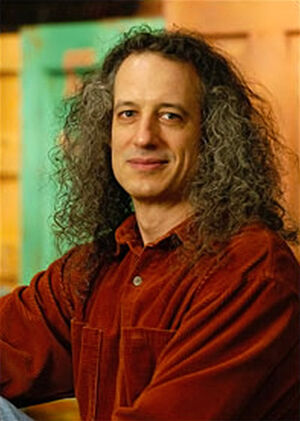 Allegra's Window: coordinated the construction of many characters, and performed Riff the Cat and other characters.
Notes
Robinson was born in Michigan and grew up in Brookfield, Wisconsin where he attended Brookfield East High school. A talented actor and musician, he played the lead in several musicals, including Bernardo in West Side Story and Fagin in Oliver!.
According to Street Gang, Robinson uses a converted greenhouse as his home workshop.
He has a black belt in karate.
According to Caroll Spinney, Robinson had divorced parents when he was young. This was the basis for the unaired episode "Snuffy's Parents Get a Divorce."[3]
Robinson has also narrated some book-and-tape read-alongs in the late 1980s.
Sources
External links