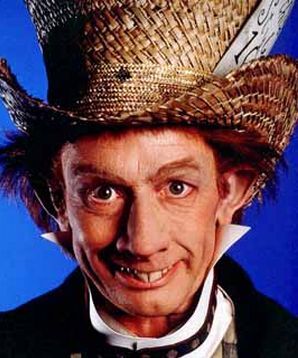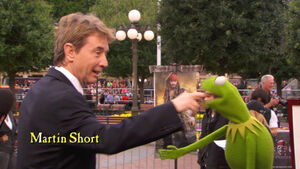 Martin Short (b. 1950) is a Canadian comedian who has appeared in such films as Jungle 2 Jungle, Captain Ron, Clifford (with Charles Grodin), Jiminy Glick in Lalawood, Father of the Bride, and Three Amigos (all three with Steve Martin). Short is probably most remembered for his famous character Ed Grimley from SCTV and Saturday Night Live. He made his Broadway debut in 1993 with Bernadette Peters in The Goodbye Girl: The Musical.Five years later, he won a Tony Award for Best Actor in a Musical in the revival of Little Me.
In July 2006, he opened his one man show (with an ensemble) Martin Short: Fame Becomes Me. He plays himself and many of his famous characters including Ed Grimley. Each night featured a surprise celebrity visitor, including Nathan Lane, Donny Osmond, Kevin Kline, Ben Stiller, Harvey Fierstein, Bette Midler, Rosie O'Donnell, and many many others. Short decided to leave the show on a high note and closed it on January 7, 2007.
In the Muppet realm, Short was the featured guest star in Muppets Tonight episode 110, reprising the role of Grimley and also playing showbiz raconteur Irving Cohen and his own agent, and appeared on Sesame Street (with Billy Crystal). He also appeared in two Creature Shop-effects TV movies, as Frik in Merlin and as the Mad Hatter in Alice in Wonderland.
Short was interviewed by Kermit for the world premiere of Pirates of the Caribbean: On Stranger Tides and played "Password" with Kermit, Miss Piggy and Michael Stipe on the November 16, 2011 episode of Late Night with Jimmy Fallon.
Short's other credits include voice work in several animated features, including The Pebble and the Penguin, The Prince of Egypt, Treasure Planet, Frankenweenie, and The Addams Family.
External links