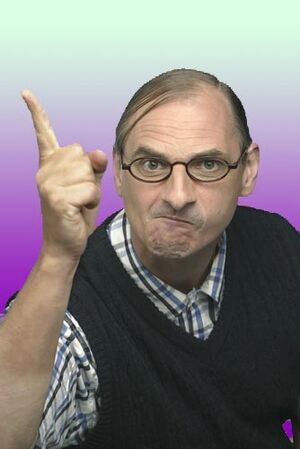 Martin van Waardenberg (b. 1956) is a Dutch actor and comedian who plays Buurman Baasje on Sesamstraat, the Dutch co-production of Sesame Street.
Buurman Baasje (Next Door Neighbor Bossy) is the grumpy neighbor who lives around the corner, behind a big fence. He hates it when Tommie, Ieniemienie, Purk and/or Pino disturb him, but with the help of the other actors, he is usually a victim of his own grumpiness.
Buurman Baasje's real name is Mr. Drommel; when the new neighbor called Tommie "baasje" in his debut episode, Tommie invented his nickname.
Buurman Baasje was added to the cast when Aart Staartjes, who originally played the grumpy character on the show, announced that he would be retiring from all children's TV except Sesamstraat. Since the new neighbor's arrival, Aart has become a little tamer and more friendly. The last has to do with the death of Sesamstraat's grandfather figure Lex Goudsmit. Especially for Pino he uses several derogatory nicknames like blue heron. Buurman Baasje really does not live in Sesamstraat, but in the adjacent Maanzaad Straat (Poppyseed Street).
Van Waardenberg is a comedy actor and performs as part of the duo Waardenberg & De Jong.
He was the first member of the human
Sesamstraat
cast in years whose character does not use his own first name.
Mieke Verstraete
didn't, and although
Gerda Havertong
used to be called Gerda on the show, she usually plays Aunt Peetje nowadays. She hardly ever plays Gerda anymore.
Community content is available under
CC-BY-SA
unless otherwise noted.