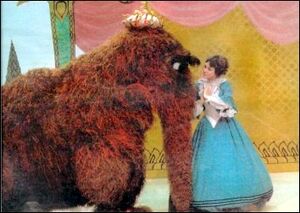 Marty Farrell (1927-2006) was an Emmy Award-winning television writer, who specialized in awards shows and variety programs. Having launched his career on The Jack Paar Program, his credits include the Oscars (in 1990), Grammys (12 years), and Emmys (8 years).
Among Farrell's credits are the 1973 special Julie on Sesame Street, and 1974 special Herb Alpert & the Tijuana Brass. Both aired on ABC, and both were directed by Dwight Hemion.
Besides the two Muppet-related productions, Farrell worked with Hemion in some capacity on 24 other specials, including four 1970s Burt Bacharach specials (one of which earned him an Emmy), the 33rd Primetime Emmy Awards, and Gene Kelly's 1978 special Cinderella at the Palace (Merv Griffin, Don Knotts, Frank Sinatra, Andy Williams). His final credits were three specials for the American Film Institute, and the I Love Lucy's 50th Anniversary Special.
Born in Baltimore, Maryland, he died July 19, 2006 in Los Angeles of colon cancer.
External links
Community content is available under
CC-BY-SA
unless otherwise noted.