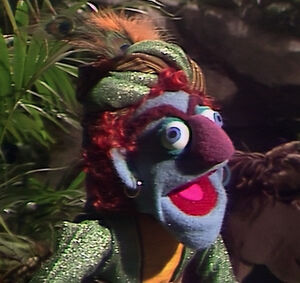 Marty Feldman (1934-1982), was a British comedian famed for his quirky sense of humour and his case of Strabismus (misaligned eyes). He is best remembered for playing Igor in Mel Brooks' Young Frankenstein (1974).
Feldman was the guest star on The Muppet Show episode 518. He riffed on his unique eyes when he bonded with his favorite Muppet, Cookie Monster. The episode features Feldman's own caricature Muppet, a "Marty Feldman Whatnot," playing Ali Baba.
When Meredith Vieira assembled a puppet from the Muppet Whatnot Workshop incorrectly on The Today Show's special The Muppets Take Over Today, with eyes pointing outwards, Kermit described it as "a Marty Feldman Whatnot".
Although Young Frankenstein was Feldman's break-out role for most American audiences, he had already been established in the UK due to his sketch comedy work, particularly on At Last the 1948 Show (1967, with John Cleese and others), for which he co-wrote "The Four Yorkshireman" sketch. His own starring sketch comedy series (Marty, 1968-1969, and The Marty Feldman Comedy Machine, 1971-1972) and specials followed. Earliest film roles included Nurse Arthur in the surreal The Bedsitting Room (1969) and a cameo in The Magnificent Seven Deadly Sins (1971, with Bruce Forsyth, Spike Milligan, and Harry Secombe).
After Young Frankenstein, Feldman appeared in more Hollywood productions, including The Adventures of Sherlock Holmes' Smarter Brother (1975, reteamed with Frankenstein cohorts Gene Wilder and Madeline Kahn) and Mel Brooks' Silent Movie (1976), while directing and starring in his own movies The Last Remake of Beau Geste (1977) and In God We Tru$t (1981).
Feldman died on December 2, 1982 in Mexico City of a massive heart attack following food poisoning from eating shellfish while filming the movie Yellowbeard. Ironically, he was in the midst of filming a scene in which his character was supposed to die. (A stand-in completed the scene.)
External links
Community content is available under
CC-BY-SA
unless otherwise noted.