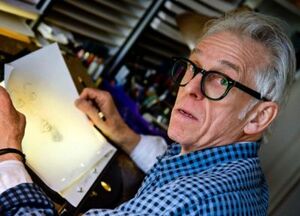 Marv Newland is a Canadian animator best known for his 1969 short film Bambi Meets Godzilla (inevitably, Godzilla stepping on Bambi). Like many other Canadian animators, for a time he contributed inserts to Sesame Street. One featured Uncle Al telling his nephew a story but changing the details every few moments. (EKA: Episode 0510)
Newland began his animation career in Tornto but relocated to Vancouver in 1972 and started his own company, International Rocketship Limited, a few years later. He directed several other shorts, some for the National Film Board of Canada, and two 1990s Tales from the Far Side television specials based on Gary Larson's comic strip. He either storyboarded or directed on episodes of Barbapapa, Duckman, and The PJs.
External links
Community content is available under
CC-BY-SA
unless otherwise noted.