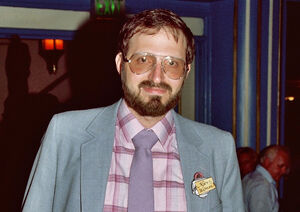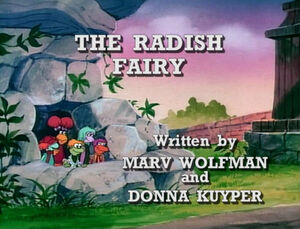 Marv Wolfman (b. 1946) is a writer and editor best known for his work in the comic books field, notably for DC Comics and Marvel.
From 1980 onwards, Wolfman has also written for TV animation, and co-wrote (with Donna Kuyper) two episodes of the 1987 Fraggle Rock animated series: "The Radish Fairy" and "Wembley's Trip to Outer Space") In the 1990s, he served as an editor for several of Disney's comic book efforts, including the two-issue run of the Dinosaurs comic book.
Marv Wolfman began his professional comics career in 1968 at DC, but really hit his stride in the 1970s at Marvel, writing The Tomb of Dracula from 1973 until 1979, and introducing the character Blade. He also wrote, and often created supporting characters, for Daredevil, The Amazing Spider-Man, Thor, and The Fantastic Four. Returning to DC in 1980, he helmed The New Teen Titans from 1980 until the 1990s and wrote the cross-over event Crisis on Infinite Earths (1985-1986). He also contributed to Action Comics, Batman, Green Lantern, and created Cyborg, Deathstroke, the Vigilante, and other characters.
Wolfman's non-Fraggle scripts for TV animation include Transformers, G. I. Joe, Conan: The Adventurer, the 1988 Superman series, Batman: The Animated Series (the two-part "Feat of Clay" episode), ReBoot, Cadillacs and Dinosaurs, and Godzilla: The Series. In digital media, Wolfman was one of the writers for DC Universe: Online and consulted on Epic Mickey 2: The Power of Two.
External links
Community content is available under
CC-BY-SA
unless otherwise noted.