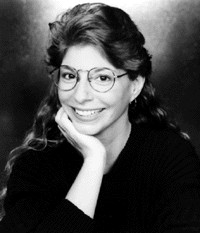 Mary Kay Bergman (1961-1999) was a voice actress who narrated several Sesame Street book and tape sets in 1997, including Who's Afraid of Elmo?, The Emperor's New Fur, and the audio version of Elmo Saves Christmas. She also looped several bit actors in The Flintstones, such as the Roc-Donalds server.
Bergman's voice-over career was brief but prolific, extending from her animation debut as two of the bimbettes in Disney's Beauty and the Beast to her breakout work on South Park, as the majority of the show's female characters, including Wendy Testaburger, Cartman's mom (and all the other recurring mothers), Mayor McDaniels, Principal Victoria, and bus driver Ms. Crabtree. She reprised most of her roles in South Park: Bigger, Longer, and Uncut; after her death, several actresses (including Mona Marshall) were hired to fill the gaps.
Bergman's other voice credits included Dr. Blight on Captain Planet and the Planeteers, Mrs. Butterworth in the syrup commercials, Daphne in several Scooby-Doo videos, Batgirl in Batman & Mr. Freeze: SubZero, Gwen Stacy in the final episode of the 1990s Spider-Man series, guest parts on The Tick, Quasimodo's mother in The Hunchback of Notre Dame, and various roles in a score of video games.
External links
Community content is available under
CC-BY-SA
unless otherwise noted.