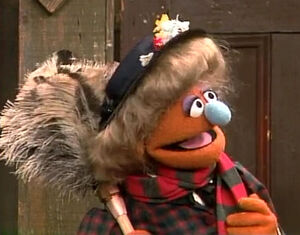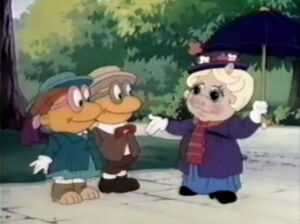 Mary Poppins is the name of a novel published in 1934 by P.L. Travers that launched a series of books about a magical English nanny. It is most popularly known as a 1964 Disney film starring Julie Andrews which introduced the nonsense word "Supercalifragilisticexpialidocious" into the vernacular.
References
In the special Julie on Sesame Street, Ernie and Bert spot Julie Andrews out on the street and try to remember where they've seen her. They recall her being from a movie about an "English girl" and "the umbrella over the rooftop," but Ernie ends up guessing Mary, Queen of Scots.
In Episode 1857 of Sesame Street, a radio program hosts a call-in game where callers must have a name rhyming with a specific word. One such word used is "Supercalifragilisticexpialidocious."
In Tales of a Sixth-Grade Muppet, after Danvers expresses concern about whether Gonzo will still want him in their act if he gets turned back into a normal sixth-grader, Gonzo reassures him by stating "I don't care if you come back as Mary Poppins!" Fozzie then comments, "Oh I love Mary Poppins!"
Connections
External links